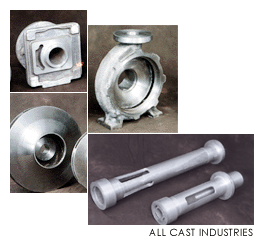 AllCast Industries, an unique foundry, offering castings in materials ranging from aluminum alloys to super alloys.
Our Quality policy is to continuously work towards meeting customers expectations and achieving international quality standards in a cost effective way.
We are an ISO-9001 : 2000 certified organization.
Our strong metallurgical background, helps us in providing quality and cost effective solutions to customers, meeting all their technical parameters.
We undertake developmental work to fabricate special alloys and castings to meet the specific needs of the customer.
We offer consultancy in selection of material for critical applications.